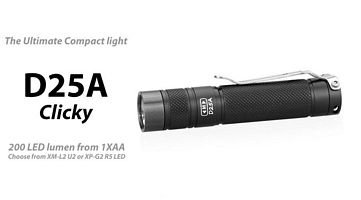 EagTac D25A CLICKY
EagTac~EagleTac D25A CLICKY - 1xAA - 200 Lumens - available with several choices of LED...
1xAA battery, Operating Voltage Range: 0.8V to 1.5V
(also compatible with 3.7V 14500 li-ion for producing up to 700 Lumens)

(Please Note: Virtually all of our Flashlight Models have several LED choices to select from... please click "LED Choice" on the right side of this page to see what LED is available for this Model)

CREE XM-L2 U2 LED
LED Lumen: 200*/121/11/1
OTF Lumen: 141*/85/9/0.5
Center LUX: 800
XM-L2 T6 Neutral White LED has approximately 7-10% less output lumen than their cool white counterpart LED.

AVAILABLE FOR LIMITED TIME: CREE XP-L V3 "HI" Domeless LED - 200 Lumen, 1,200 LUX.
And available... for the discriminating palate
NICHIA 219b 5700K HIGH CRI 92, and 219b Neutral White LED (4500K, HIGH CRI 92), or new Nichia 219c 4000K HIGH CRI-92 LED .

LED Lumen: 132*/82/10/1
OTF Lumen: 88*/55/7/0.5
Center LUX:
Runtimes:
(*Turbo/high/low/moon) 1.3/2.5/20/150+ hours

Dimensions:
Length: 3.4 inch (8.7 cm)
Body Diameter: 0.65 inch (1.7 cm)
Head Diameter: 0.7 inch (1.75 cm)
Body Weight (excluding batteries): 0.85 ounces (24 grams)

Using 4.2V li-ion direct drives the LED and yields maximum output at the expense of extensive heat generated from the LED. Limit each usage to less than fives minutes (or less than one minute each with freshly charged li-ion for the first couple times). Active cooling (blowing cool air toward the light) or passive cooling (holding the light in your hand) helps preventing excessive heat built at the LED. Turn off the light to allow it to cool down if you find the flashlight too hot to hold. Do not leave the light running unintended with li-ion. During direct drive, output at low and medium mode will be higher than normal.
What's included
Stainless steel bezel w/ durable dark titanium coating
Spare o-rings
Polished stainless steel pocket clip
User Manual
Rigid Nylon Holster w/ self-retention device and flip
Mil-Spec Paracord Lanyard w/ quick attachment clip