MecArmy PT16 v3 18350 Body & Tailcap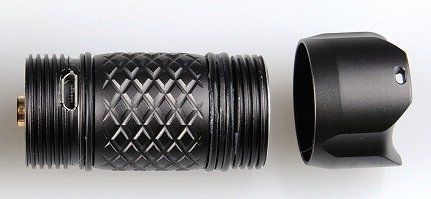 MecArmy PT16 v3 18350 Body & Tailcap
MecArmy PT16 v3 ALUMINUM Keychain Light Replacement/Upgrade Battery/Body Tube.
The Mini rechargeable MecArmy PT16 v3 Replacement/Upgrade Battery/Body Tube, with tailcap and charging circuit/Micro USB plug.
Allows use of 18350 (or 16340) Rechargeable Battery with PT16 v1-v2 lights.
(PT16 head and battery not included).
Externally same body specs as Body/Battery Tube included with v1-v2 PT16, but the v3 Battery Tube allows use of higher capacity 18350 battery.
(Note: Does not change v1-v2 User Interface into v3 User Interface)
SPECIFICATIONS:
Battery: 18350 or 16340 Li-ion (Batteries not included)
Body Size: 22.5mm (.9")
Charging Current: 600mAh
Waterproof IPX-8 Standard
WHAT'S INCLUDED:
PT16 v3 18350 Battery/Body Tube w/ Charging Circuitry, and Tailcap
(no head or battery).

(Note: The Manufacturer-Altun, offers three branded versions of this light. The other two brands are intended only for the China Market, and does not include any Dealer or Manufacturer Warranty at all/None/Nada/Zip/Zero outside of China!)
ONLY the "MecArmy" brand has a 5 year Warranty - Worldwide.
More Info http://www.mecarmy.com/