XTAR MC1 Plus Li-ion Intelligent Charger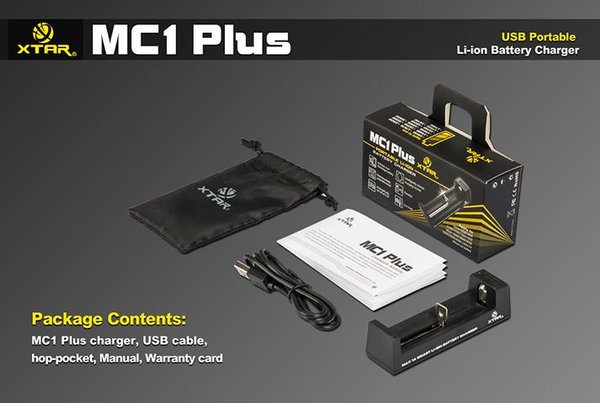 XTAR MC1 Plus Li-ion Intelligent Charger
XTAR MC1 PLUS - USB Compact/Travel Li-ion Intelligent Charger - automatically charges 3.6v/3.7v batteries at 500mAh or 1,000mAh. Just insert your Li-ion Battery into the charger and MC1 Plus will take care of the rest.
Intelligent single battery USB powered Li-ion Charger for 10440~26650 Size Li-ion Batteries (any size Li-ion between 10440 and 26650).
Input: DC 5V 1,000mA
Output: DC 4.2V 500mA/1,000mAh
Auto detect battery and charging current
0v activation
Low Heat Control
Short Circuit Protection
Red-Green LED indicator

USB power: Standard Micro USB charging interface
Optional AC power: 100-240V 50/60Hz
Optional DC power: 12VDC Automotive

NOTE: Li-Ion cells can be hazardous - never leave charging cells unattended, and remove cells from charger once charging cycle has finished!