18650 3600mAh EagTac Li-Ion Rechargeable Battery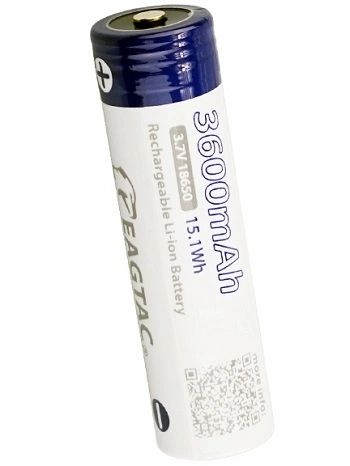 18650 3600mAh EagTac Li-Ion Rechargeable Battery
NEW 2020* EagTac~EagleTac 18650 3600mAh 15.1Wh "Dark BLUE top" Li-Ion Rechargeable.
Currently the highest capacity 18650 on the market. 
EagTac takes the best li-ion batteries in the world, and adds a TRUE button top and a PCB PROTECTION circuit for a complete package.  
IC PROTECTED Rechargeable Cell
(takes the place of 2x123 cells in some applications)
(4.2V hot off charger)
Features:
- Uses newest Samsung 3600mAh Li-ion Cell, Made in Japan.
- This is the shortest ultra high capacity 18650 ever made WITH TRUE Button top!
- Measures only 67.8mm in height and 18mm in width.
- IC protected for a) over-charge, b) over-discharge, c) short circuit, d) current overflow of 10A+
- True protrude/BUTTON top design, fits/functions all flashlights.
- High Discharge Rate 10A+
- Nominal Voltage: 3.6V, charge up to 4.2V, use CC/CV charger to charge.
- Reinforced Steel Plate Bottom, highly efficient protective PCB design.
- Packaged in individual box and anti-static bag.
- Weight approx 1.8 ounces

*NEW 2020 model: 
Brass button top contact with PTC/Protection circuitry now at "top" of battery (with steel plate used at bottom for added durability).  
By moving PTC to top ~ reduced stresses are placed on the IC components for increased reliability. This design also creates shorter battery length, and no metal strip running along side of body for safer use ~ narrower width. All internal connection is made using pure nickel for better conductivity.

Every 2nd 18650 battery in order includes a FREE 18650 Battery Protective Case! 
These are Tested/Pre-Charged prior to shipping by iG - 
Don't want your batteries Tested/Charged?  No Problem - let us know!