EagTac 18650 to 21700 Spacer / Adapter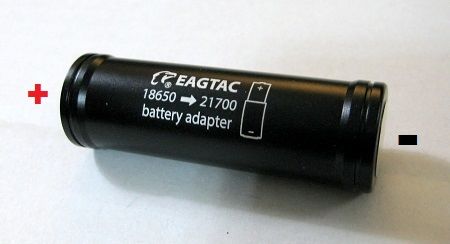 EagTac 18650 to 21700 Spacer / Adapter
EagTac 18650 to 21700 Aluminum Spacer / Adapter ~ allows you to run an 18650* battery in a 21700 powered light.

Insert 18650 battery bottom/- first into spacer/adapter ~ then insert 18650 with spacer into 21700 body with top/+ first.

*Battery not included: Make sure your 18650 battery can safely power a 21700 light ~ if in doubt, run light only on lower output modes until the battery can be replaced with a 21700.