EagTac D25LC2 - COLOR CLICKY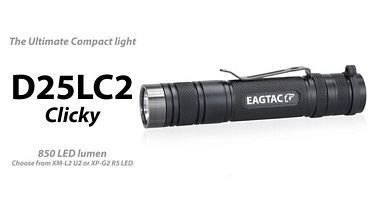 EagTac D25LC2 - COLOR CLICKY
EAGTAC D25LC2 COLOR- 2xCR123A battery, or 1x18650 li-ion - up to 331 Lumens
Operating Voltage Range: 2.7V to 8.4V. The D25LC2 COLOR model offers 4-colors from a single LED. User can easily select between ~ White, Red, Blue, or Green output.

CREE XM-L COLOR selectable LED
RED (625nm)
Royal BLUE (530nm) 
GREEN (455nm) 
from one LED
LED Lumen:
331*/262/105/9 (White)
120*/99/47/10 (Red)
45*/36/15/2 (Royal Blue)
240*/190/88/8 (Green)

OTF ANSI Lumen: 
261*/210/84/7 (White)
95*/79/37/8 (Red)
37*/29/12/1 (Royal Blue)
190*/152/71/6 (Green)
Center Lux: 900

Runtimes: (Turbo/high/med/low)
 (White/Royal Blue/Green)
1.5/6/120+ hours (2xCR123A)
1.8/10/200+hours (1x18650)
(Red)
2.3/8/30+ hours (2xCR123A) 
4/12/80+hours (1x18650) 
* Turbo Boost for 90 Seconds.

Battery Type: 2xCR123A or 1x18650 li-ion
Do not exceed 6V or use two rechargeable RCR123/16340
Dimensions: 
Length: 4.5 inch (11.5 cm) 
Body Diameter: 0.85 inch (2.2 cm) 
Head Diameter: 0.9 inch (2.25 cm) 
Body Weight (excluding batteries): 1.7 ounces (49 grams) 

To change the LED color: Loose the head (3rd level), tight the head (1st level), and then loose the head (3rd level) within one second to change the LED color. 
Flashlight will light up four different color one after another, tight the head anytime to select your desired color. This color will be your default LED color until you reprogram it.
What's included
Stainless steel bezel and pocket clip w/ durable dark titanium coating

Spare o-rings

Polished stainless steel pocket clip

User Manual

Rigid Nylon Holster w/ self-retention device and flip

Mil-Spec Paracord Lanyard w/ quick attachment clip