EagTac DX30LC2-BR, w/ Bike Mount (RECHARGEABLE)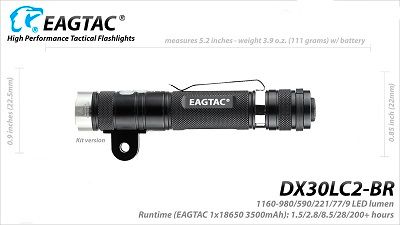 EagTac DX30LC2-BR, w/ Bike Mount (RECHARGEABLE)
EagTac~EagleTac DX30LC2-BR, BIKE-RECHARGEABLE* FORWARD CLICKY - 2xCR123 / 1x18650 - up to 1,160 Lumens - available with CREE XP-L HI Domeless LED... (*Price includes an 18650 li-ion battery, and USB charging cable!)

(Please Note: Virtually all of our Flashlight Models have several LED choices to select from... please click "LED Choice" on the right side of this page to see what LED is available for this Model)
The all-new DX30LC2-R model is redesigned from ground up, with new built-in li-ion battery charging function of the DX30 lineup. The all-new DX30LC2-R model offers high-current fast charging that is compatible with any standard USB charger port (1Amp or higher). The innovative user interface allows user to turn on the flashlight at maximum or lowest output at will.
CREE XP-L V3 HI Domeless LED
LED Lumen: 1,160
ANSI Lumen: 905
Center lux: 20,800
Five Brightness Levels
LED Lumen: 1,160*-980/590/221/77/9 
ANSI Lumen: 905*-790/475/178/62/7

Runtimes:
XP-L V3 HI: 1.5*/2.8/8.5/28/200+ hours (1x18650 3500mAh Battery) 
* Turbo Boost for 200 Seconds. 
Dimensions: 
Length: 5.2 inch (132 mm) 
Body Diameter: 0.85 inch (22 mm) 
Head Diameter: 0.9 inch (2.25 mm) 
Body Weight (excluding batteries): 2.3 ounces (65 grams)
Body Weight (including batteries): 3.9 ounces (111 grams)

Battery Type: Uses 1x18650 (or in Emergency 2xCR123, but do NOT recharge)
Operating voltage: 2.7v-6.0v (Do not exceed 6volts. Do not use two rechargeable CR123/16340)
What's included
DX30LC2-BR flashlight
Aluminum Bike Mount Set
Silicon padding for installation
Hex Key Wrench
Spare o-rings
User Manual
Mil-Spec Paracord Lanyard w/ quick attachment clip
CR123 Battery Magazine
Stainless Steel Bezel
Removable silver spring steel pocket clip w/ harden treatment
USB Charging Cable (3'.3"/1 Meter)
1x EagTac 18650 Li-ion Battery
TWO Models To Select from:
BASE: 
Smooth Stainless Steel Bezel
EagTac 18650 Li-ion 2600mAh Battery (Sanyo cell)
KIT: 
Crenulated Stainless Steel Bezel
EagTac 18650 Li-ion 3500mAh Battery (Sanyo cell)
USB 5v 1A Wall Charger (100-240v)
Stainless Steel Thumb Screw
Heavy Duty Nylon Holster