EagTac DX3L MKII CLICKY (RECHARGEABLE)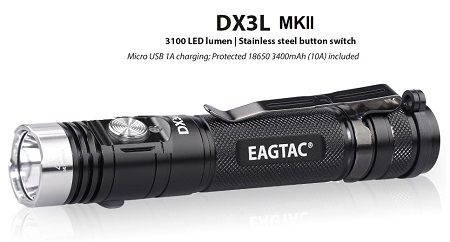 EagTac DX3L MKII CLICKY (RECHARGEABLE)
NEW DEC 2020 EAGTAC DX3L MKII CLICKY Rechargeable ~ 5.1 inches (131 mm) ~ and offering up to 3,100 Lumens (2,550 ANSI Lumens) using one of four optional LED choices, for maximum flexibility of use and personal taste ~ using the included 18650 rechargeable battery. The DX3L MKII includes thermal management and low voltage circuitry, deep one-way pocket clip, and more.
(Please Note: Virtually all of our Flashlight Models have several LED choices to select from... please click "LED Choice" on the right side of this page to see what LED is available for this Model)
LUMINUS SST-70 LED:
LED Lumen 3,100
ANSI Lumen 2,500
LUX 16,500

or, CREE XH-P50.2 Neutral, 2,674 lumens (ANSI 1,978), TBD LUX
or, OSRAM CSLPM1 High LUX LED, 1,100 Lumens, approx 25,000 LUX

NOTE: The SST-70 LED is NOT currently available in NEUTRAL White.

Output: FIVE Levels


TBD

XH-P50.2

2,500*-1,580 / 1,180 / 430 / 150 / 15 lumen (ANSI FL-1 lumen: 1,850*-1,280/970/360/125/12
)
Runtimes

:




TBD

XH-P50.2

0.7*-1.1 / 1.6 / 5.4 / 18 / 190 hours (using

 

1x18650

3400mAh Battery)




Dimensions:
Length: 5.1" inch (131 mm)
Body Diameter: 0.85 inch (22 mm) 
Head Diameter: 0.9 inch (22.5 mm)
Body Weight (including batteries): 3.8 ounces (108 grams)

Battery Type: Uses 1x18650
Operating voltage: 2.7v-4.2v (Single Li-ion)

The built-in rechargeable function only works with a single 18650 li-ion battery. 


What's Included

DX3L MKII CLICKY

flashlight

Stainless Steel Bezel

Harden stainless steel deep pocket
one-way clip with titanium alloy dark vacuum coated finish

UL Certified USB 5v 1A Wall Charger (100-240v)

Heavy Duty Nylon Holster

3.7v 3400mAh

18650 rechargeable protected li-ion battery



Spare o-rings

Spare Micro-USB port rubber cover


User Manual

Mil-Spec Paracord Lanyard w/ quick attachment clip

Micro USB Charging Cable (3'.3"/1 Meter)
*
After 30 seconds at maximum output level (100%), the active thermal management feature will be activated and continuously adjusts the maximum output level according to the flashlight internal temperature. The adjustment output range is between 70%-100%.
This feature maintains the flashlight surface temperature to be about 130°F (54 °C) for W1900 (higher surrounding temperature may result in higher flashlight temperature). It's normal for high power flashlight to run hot at MAX level. Reduce the output if the user finds the flashlight too warm to hold.
NOTE: Due to the very high output nature of the DX3L - a high output EAGTAC18650 battery is required for optimal output and runtime performance and safety. The battery must be able to provide 10+amps of power - which the "cheap" Ultra/TrustFire and most other 18650 batteries are unable to provide. We recommend our EagTac 10amp 18650 3500mAh for best fit, max output, and runtimes.