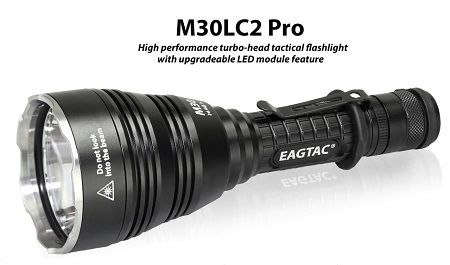 EagTac M30LC2 Pro
EAGTAC M30LC2 Pro - XH-P35 HD 2,000 Lumens (1,600 ANSI Lumens) using 1x18650 or 2xCR123A batteries.

(Please Note: Virtually all of our Flashlight Models have several LED choices to select from... please click "LED Choice" on the right side of this page to see what LED is available for this Model)
CREE XH-P35 HD LED:
LED Lumen 2,000
ANSI Lumen 1,600
LUX 50,400

Output: Four output levels
LED Lumen 2,000*-1,320 / 710 / 250 / 18
ANSI FL-1 lumen: 1600*-1069 / 582 / 208 / 15
Runtime 2xCR123: 0.5*-0.8 / 1.6 / 6 / 120 hours
Runtime 1x18650: 1*-1.3 / 2.8 / 10 / 200 hours
*Maximum output current will be reduced after 60 seconds to prolong output runtime.

or

CREE XH-P35 HI DOMELESS LED:
LED Lumen 1,870
ANSI Lumen 1,400
LUX 89,100

Dimensions:
Head Dia. 2.5 inches (62 mm)
Body Dia. 1 inches (25.4 mm)
Length: 6.9 inches (176 mm)
Weight: 8.7 ounces (248 grams)
Operating voltage: 2.7V - 8.4V Do not exceed 8.4V. Do not use CR123A due to high amp draw of the XH-P35 LED.    

*NOTE: Due to the high output nature of the

M30LC2

Pro

XHP35 LED

 

- a high output 18650 battery is required for optimal output and runtime performance. The battery must be able to provide 7.0+amps of power - which the "cheap" Ultra/TrustFire and most other 18650 batteries are unable to provide. We recommend our EagTac 10amp 18650's for best fit, max output, and runtimes.
What's Included
M30LC2 Pro flashlight, Stainless Steel Crenulated Bezel, add-on diffuser filter with flip-cover feature, cigar grip cover ring, tail stand rubber boot, Spare O-rings, User manual, Soft cigar holding grip, Mil-Spec Paracord Lanyard w/ quick attachment clip removable dark pocket clip mode of spring steel w/ harden treatment.

Optional:
- Aluminum Rail Weapon Mount for 1" Body
- Remote Pressure Pad switch cord w/ separate on/off switch (Choice of 5.5" Coiled, or 7" Straight Cord)