EagTac MX30L3-C (Compact)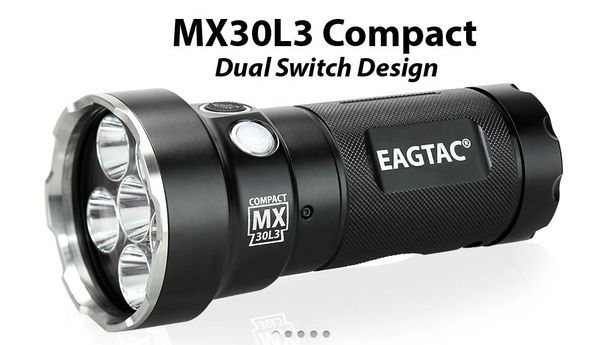 EagTac MX30L3-C (Compact)
EAGTAC MX30L3-C Compact - 3x18650 Battery or 6xCR123 - 3,780 Lumen compact light
(Lumen output is same with all battery types - but do not mix types!)


(Please Note: Virtually all of our Flashlight Models have several LED choices to select from... please click "LED Choice" on the right side of this page to see what LED is available for this Model)
6x CREE XP-G2 LED
LED Lumen 3,780
ANSI Lumen 2,815
LUX 45,300 
6x CREE XP-G2 LED CW
FIVE brightness levels (Regular mode)
Led lumen: 3,780*-3,180 / 2,250 / 1,080 / 420 / 25
ANSI lumen: 2,815*-2,408 / 1,751 / 840 / 328 / 20
Runtime: 0.7 / 1.3 / 3.1 / 9.5 / 200 hours (6xCR123A) 
1.5 / 2.5 / 6 / 17 / 350 hours (3x18650)

or
Also available iG Exclusive CUSTOM 6x Nichia 219b LED, 92 CRI for the discriminating palate.
Led lumen: 2,759*-2,321 / 1,642 / 788 / 307 / 18
ANSI 2,055*-1,758 / 1,278 / 613 / 239 / 15 
*Turbo boost technology is activated every time you turn on at turbo output setting. It offers 25% more power to the LED for the first 200 seconds at turbo mode. User can customize this setting.
A blue LED indicator under the main switch reports the estimated battery remaining capacity.
Flash once: lower than 20%
Flash twice: 20%-40%
Flash 3x times: 40%-60%
Flash 4x times: higher than 80%
Two hidden auxiliary outputs - Beacon, SOS
Dimensions:
Head Dia. 2.5 inches (62 mm)
Body Dia. 1.8 inches (45.5 mm)
Length: 5.3 inches (135 mm)
Weight: 12.9 ounces (367 grams)

Battery Type:
Uses 6xCR123 Lithium Batteries (Do not use 3.7V RCR123/16340's!)
or 3x18650 Rechargeable Li-Ion Batteries. 
Operating voltage: 5.4V - 19V All batteries are connected in series. Do not exceed 19V. Do not use six 3.7V RCR123A.
WHAT'S INCLUDED with BASE Light: 
Spare o-rings, User Manual, Mil-Spec Para-cord Lanyard w/ quick attachment clip, 3xCR123A Battery Magazines, Comes with smooth aluminum bezel, Flat tail-stand tailcap
WHAT'S INCLUDED with KIT:
Above items +
Comes with stainless steel bezel, tailcap w/ switch and tail-standing ability - in lieu of Flat Tail-cap above (light can be switched on via head or, included tail switch), signal connection through the body tube for rear accessories add-on, Flashlight head come with front-mount thread for bezel and filter attachment, Heavy Duty Nylon Holster w/ self-retention device and open-top design, ET54II Flip diffuser filter with flip cover.
(NOTE: KIT currently must be purchased with Light, as the Tail Cap switch will not function with Base Light body)
NOTE: Due to the high output nature of the MX30L3-C - "matched" high output 18650 batteries are required for optimal output and runtime performance. The batteries must be able to provide 4.0+amps of power - which the "cheap" Ultra/TrustFire 18650 batteries are unable to provide. We recommend our EagleTac 18650's for best fit, max output, and runtimes.