EagTac MX30L3-CR (RECHARGEABLE)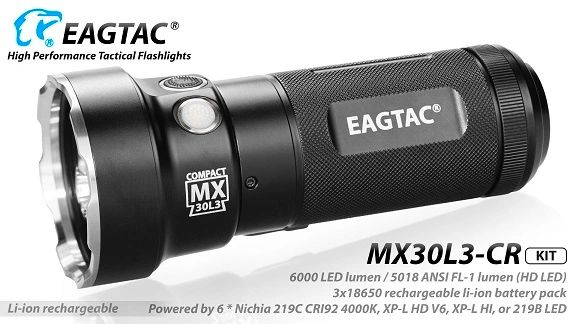 EagTac MX30L3-CR (RECHARGEABLE)
EAGTAC MX30L3-CR Rechargeable ~ 6,000 Lumen compact light, using 6x CREE XP-L HD LED's - using a 3x18650 included Battery Pack.  This "CR" model offers same features and benefits as the MX30L3-R model, however rather than a single LED, this uses SIX LED's for maximum Lumen output and throw.

(Please Note: Virtually all of our Flashlight Models have several LED choices to select from... please click "LED Choice" on the right side of this page to see what LED is available for this Model)
CREE XP-L HD LED
LED Lumen 6,000
ANSI Lumen 5,018
LUX 40,200

or
CREE XP-L V3 HI Domeless LED, 5,250 LED Lumen, 4,415 ANSI Lumens, 70,500 LUX.

And... for the discriminating palate
Nichia 219c 4000K HIGH CRI-92 LED, or newest Luminus SST-20 R9 4000K 95+ HIGH CRI LED.

3,850 LED Lumens, 3,160 ANSI Lumens, and 35,200 LUX
or NICHIA CYAN (green color) LED


CREE XP-L HD LED
FIVE brightness levels
Led lumen: 6,000*-4,035 / 3,050 / 1,145 / 445 / 60
ANSI lumen: 5,018*-3,390 / 2,570 / 970 / 380 / 52

Runtime: 1.1-2.2 / 3.6 / 13 / 40 / 160 hours (3x18650 3,500mAh KIT)

Dimensions:
Head Dia. 2.5 inches (62 mm)
Body Dia. 1.8 inches (45.5 mm)
Length: 5.8 inches (147 mm)
Weight: 15.8 ounces (449 grams) w/ Battery

Battery Type:
Uses 3x18650 Rechargeable Li-Ion Battery Pack (INCLUDED). 
Operating voltage: 8.1V - 12.6V
WHAT'S INCLUDED:
Spare o-rings,
User Manual,
Mil-Spec Para-cord Lanyard w/ quick attachment clip,
EAGTAC rechargeable battery,
100-240v to 15v@8a wall charger UL Certified.

TWO Models
BASE Light: 
Comes with smooth aluminum bezel,
EAGTAC 11.1v 3x18650 2500mAh 27.7Wh battery pack.

KIT:
Crenulated stainless steel bezel,
EAGTAC 11.1v 3x18650 3500mAh 38.8Wh battery pack (authentic Sanyo Japan cells),
EAGTAC 12v car charger (voltage step-up circuit built-in),
add-on diffuser filter with flip cover feature,
nylon holster.

(Spare Battery Packs are available for purchase)