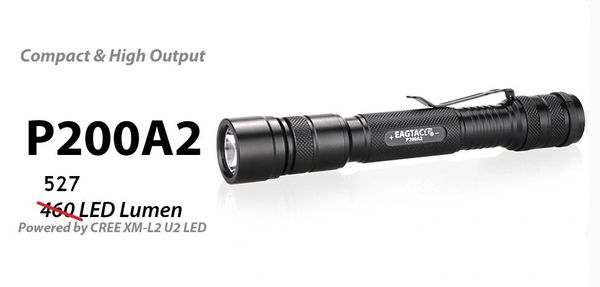 EagTac P200A2
EAGTAC P200A2 Much improved from its predecessor P100. The all-new P200 series get redesigned from ground up. It features better heatsink, more rigid built, higher lumen output, better interface, and better looking.
Uses 2xAA battery Alkaline, Lithium e2, or NiMH/NiCD Operating Voltage Range: 2.7V to 3.0V (NO Li-ion!)

(Please Note: Virtually all of our Flashlight Models have several LED choices to select from... please click "LED Choice" on the right side of this page to see what LED is available for this Model)
CREE XM-L2 U4 LED
LED Lumen: 527
ANSI Lumen: 378
Center LUX: 4,440
Three brightness levels
LED lumen: 527*-416/207/33
ANSI FL-1 lumen: 378*-299/153/25
Runtime: 1.5 / 4.5 / 25 hours
* Turbo Boost for 200 Seconds. 
Also, CUSTOM Models Available: CREE XP-L HI Domeless 448 Lumens, 7,300 LUX,
or, UV 365nm LED (4 watts), or Osram Infrared IR 850nm 3.4w illuminator (1200mW radiant flux)

Dimensions: 
Head Diameter: 1 inch (25.4 mm) 
Body Diameter: 0.8 inch (20 mm)
Length: 6.3 inch (160 mm)
Weight (excluding batteries): 2.8 ounces (84 grams) 
What's Included
P200A2 flashlight, Spare o-rings, User Manual, Mil-Spec Para-cord Lanyard w/ quick attachment clip, Heavy Duty Nylon Holster with flip, User removable tailcap lanyard ring, User removable stainless steel pocket clip (Titanium Coated)