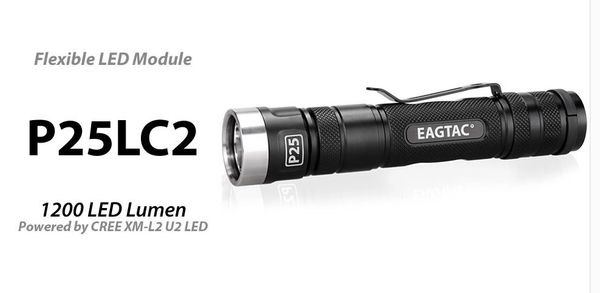 EagTac P25LC2
EAGTAC P25LC2 - A big leap forward from its predecessor P20. The all-new P25 series is redesigned from ground up. It features better heatsink, more rigid built, higher output, better interface, and better looking. P25 series retain the popular LED module upgrade ability like the P20 series.
P25LC2 features a powerful 1,200 Lumen (920 ANSI Lumen) CREE XM-L2 LED, with four brightness output using 2xCR123A batteries or 1x18650.

(Please Note: Virtually all of our Flashlight Models have several LED choices to select from... please click "LED Choice" on the right side of this page to see what LED is available for this Model)
Uses 2xCR123A battery, or 1x18650 li-ion Operating Voltage Range: 2.7V to 6.0V (NO RCR123/16340!)
CREE XM-L2 U4 LED
LED Lumen: 1,374
ANSI Lumen: 1,065
Center LUX: 13,500

Three brightness levels
LED lumen: 1,374*-1,122/584/118/4
ANSI FL-1 lumen: 1,065*-864/481/95/3
Also available: CREE XP-L HI Domeless LED, 1,160 Lumen, 25,400 LUX.

And... for the discriminating palate
Nichia 219c 4000K HIGH CRI-92 LED, or newest Luminus SST-20 R9 4000K 95+ HIGH CRI LED.

LED lumen: 483*/330/43/9
ANSI FL-1 lumen: 345*/235/

New Circuitry Option

:

Tail Cap Strobe

, just Like the T20/T25/G25 etc family. For those desiring strobe from tail cap ~ enable tail strobe mode, click tail cap ON 20+ times until flashing is seen, then switch light off, and set light aside for 20 seconds or so... once enabled, a double tap/ON from tail cap will produce strobe output. (To disable, reverse procedure, 20+ times ON, until flashing stops...)

Runtime: 1.5 / 3.5 / 20 / 200+ hours (1x18650)
             0.8 / 2 / 10 / 130+ hours (2xCR123A)
* Turbo Boost for 200 Seconds. 
Dimensions: 
Head Diameter: 1 inch (25.4 mm) 
Body Diameter: 0.85 inch (22 mm)
Length: 4.9 inch (123 mm)
Weight (excluding batteries): 2.1 ounces (64 grams) 
Optional User Replaceable Modules NOW Available!
A primary advantage of this model is the inexpensive operator replaceable LED Modules. Different LED and color choices are available – and, as LED Technology continues to evolve, it will take but a few seconds to inexpensively update the Light to the newest-brightest LED's available!
What's Included
P25LC2 flashlight, Spare o-rings, User Manual, Mil-Spec Para-cord Lanyard w/ quick attachment clip, CR123 Battery Magazine, Heavy Duty Nylon Holster with flip, User removable tailcap lanyard ring