EagTac PX30LC2-DR **DIFFUSER** (RECHARGEABLE)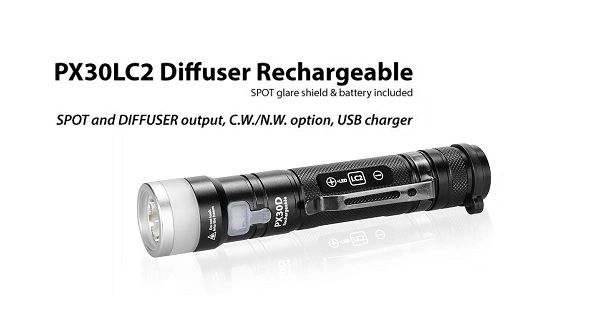 EagTac PX30LC2-DR **DIFFUSER** (RECHARGEABLE)
EAGTAC PX30LC2 DIFFUSER (aka Lantern type) RECHARGEABLE light- combining both spot and diffused LANTERN like output into one LED flashlight head with updated diffuser design/glare shield.
PX30LC2 features a powerful 1,160 Lumen (930 ANSI Lumen) CREE XP-L HI LED, and a CREE 3014 LED Array (two lights in one) - with four brightness output each using 2xCR123A batteries or 1x18650 (Included).

(Please Note: Virtually all of our Flashlight Models have several LED choices to select from... please click "LED Choice" on the right side of this page to see what LED is available for this Model)
User may toggle between SPOT, DIFFUSED, or SPOT+DIFFUSED light output.

CREE XP-L HI LED Domeless - SPOT
LED Lumen: 1,160
ANSI Lumen: 930
Center LUX: 17,500
or
NICHIA 219c 4000K HIGH CRI-92 LED ~ 885 Lumens.
+CREE 3014 LED Array - FLOOD
LED Lumen: 600

FIVE brightness levels:
SPOT LED lumen: 1,160*-980/590/221/77/9
ANSI FL-1 lumen: 930*-795 / 477 / 179 / 63 / 7

FLOOD LED lumen: 600 / 290 / 140 / 40 / 3
Runtime: SPOT 1.5 / 2.8 / 8.5 / 28 / 200 hours (1x18650)
Runtime: FLOOD 3.3-200 hours (1x18650)

Dimensions: 
Head Diameter: 1 inch (25.6 mm) 
Body Diameter: 0.85 inch (22 mm)
Length: 5.2 inch (132 mm)
Weight: 3.9 ounces (110 grams) w/ Battery

Voltage Range: 2.7V to 6.0V (NO RCR123/16340!)
What's Included
PX30LC2 DIFFUSER flashlight,
Diffuser Head built-in with spot output glare shield
Spare o-rings,
User Manual,
Mil-Spec Para-cord Lanyard w/ quick attachment clip,
CR123 Battery Magazine,
USB Charging Cable (3.3 feet/1 meter)
EagTac 18650 2600mAh Battery,
Smooth Stainless Steel Bezel
Removable darken pocket clip made of spring steel w/ harden treatment
USB 5v 1a Wall Charger.
Heavy Duty Nylon Holster,