EagTac S25V (RECHARGEABLE)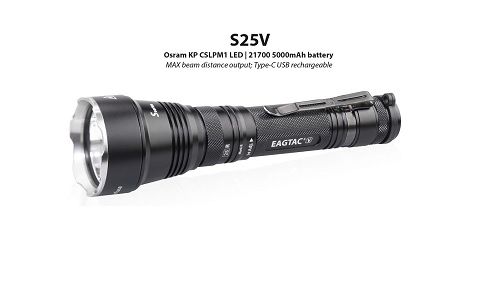 EagTac S25V (RECHARGEABLE)
NEW EagTac S25V 1,200 lumens with 110,300(!) LUX rechargeable flashlight, using the included 1x21700 Li-ion Battery. Type-C USB 2.5 Amp charging and offers easy-to-use interface with programmable start-up brightness function.

(Please Note: Virtually all of our Flashlight Models have several LED choices to select from... please click "LED Choice" on the right side of this page to see what LED is available for this Model)
CREE OSRAM CLPM1.F1 LED:
LED Lumen 1,200
ANSI Lumen 960
LUX 110,300


Output and Runtime
Three brightness levels
Programmable Medium and Low levels

Led lumen:

Max: 1200-9105
Medium: 640-450-270-Strobe
Low: 55-20-7-Strobe

ANSI FL-1 lumen:

Max: 960-7455
Medium: 525-370-220-Strobe
Low: 46-17-6-Strobe

Runtime6:

Max: 2-3 hrs
Medium: 3.5-5.2-8 hrs
Low: 45-100-250 hrs

Four hidden auxiliary outputs

Disorienting strobe/Flash/S.O.S./Beacon
User programmable tailcap strobe
Dimensions:
Head Dia. 1.9 inches (47 mm)
Body Dia. 1 inches (25.4 mm)
Length: 6.9 inches (175 mm)
Weight: 8 ounces (226 grams) w/ Battery

What's included
S25V flashlight
3.7V 5000mAh 21700 rechargeable protected li-ion battery (10A discharge)
Heavy duty nylon holster
Type-C USB charging cable (2feet/0.6meter) w/ AWG22 copper wire
10A high current forward clicky tailcap
Removeable harden stainless steel deep pocket clip in black harden titanium alloy finish
Spare o-rings
User Manual
Mil-Spec Para-cord Lanyard w/ quick attachment clip



OPTIONAL: ALUMINUM Spacer for using 18650 battery when needed (make sure your 18650 is capable of powering light!)
NOTE: Due to the high output nature of the S25V - a high output 18650 battery is required for optimal output and runtime performance. The battery must be able to provide 7.0+amps of power - which the "cheap" NUON/Ultra/TrustFire and most other 18650 batteries are unable to provide. We recommend our EagTac 10amp 18650's for best fit, max output, and runtimes.