EagTac SX30L2-DR **DIFFUSER** KIT (RECHARGEABLE)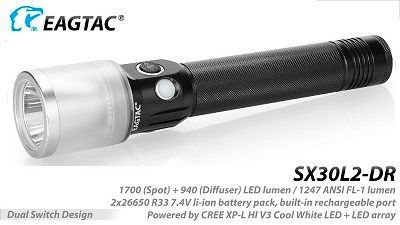 EagTac SX30L2-DR **DIFFUSER** KIT (RECHARGEABLE)
EAGTAC SX30L2-DR Diffuser (aka Lantern type) - R33 – 1,700 lumen compact flashlight, combining both spot and diffused LANTERN like output into one LED flashlight head. SX30L2-DR-R33 KIT also includes AC (Wall) & DC (Car) cords for charging light, & Rigid Holster. 
(Please Note: Virtually all of our Flashlight Models have several LED choices to select from... please click "LED Choice" on the right side of this page to see what LED is available for this Model)
CREE XP-L HI LED:
LED Lumen 1,700
ANSI Lumen 1,247
Center LUX 81,300
Flood LED Array  
LED Lumen: 940

Five brightness levels (SPOT mode)
Led lumen: 1,700*-1,353 / 873 / 350 / 137 / 20
Runtime: 2.3 / 4.5 / 14 / 42 / 250 hours (R33 Battery)
Five brightness levels (Diffuser only)
LED lumen: 940 / 460 / 178 / 68 / 10
Runtime: 5.5 / 13 / 35 / 105 / 250 hours

Five brightness levels (SPOT + Diffuser)
SPOT LED lumen: 800 / 390 / 140 / 44 / 4
Diffuser LED lumen: 900 / 400 / 143 / 47 / 5
Runtime: 3 / 6.5 / 22 / 70 / 250 hours
*Energy saving feature reduce the maximum output current from 100% to 85% after 200 seconds at turbo output.

Three hidden auxiliary outputs - Strobe/Beacon(1.67Hz)/S.O.S.
These lights offer BUILT-IN CC/CV Li-ion Charger(Constant Current/Constant Voltage charging method) and replaceable-rechargeable High Output/High Capacity Li-ion battery pack with AC or DC cords for rechargeability.
Dimensions
Head Dia.1.9 inches (47 mm)
Body Dia.1.2 inches (31 mm)
Length:9 inches (230 mm)
Weight:14.8 ounces (420 grams)

Battery Type
Uses 1pc ET 2x26650 ("C" Size) 4500mAh/33.3Wh Li-ion battery pack (Included in Kit) - 
IC protected, prevents over-charge, over-discharge, short circuit

Charging circuit - 2000 SW II
Highly efficient buck switch
Accepts input from 10V to 15V
Compatible with 12V automobile DC socket
Constant current and constant voltage charging method
Fast charge to 40% in one hour (R33)
Three hours safety timer w/ charging indicator.

Only use the integrated built-in charging socket to charge the original EAGTAC 7.4V battery pack. Charging unbalanced third party 7.4V 26650 battery pack, two individual 3.7V 26650 cells, or non-rechargeable batteries may result in battery or flashlight damage. 

For backup power use (rechargeable models), you can purchase additional EAGTAC 7.4V battery pack. You can also use two individual 26650 batteries (w/ protection board is highly recommended), but keep in mind that you should not charge any non EAGTAC 7.4V battery pack with the integrated charger.

WHAT'S INCLUDED:
SX30L2-DR-R33 BASE:
SX30L2-DR flashlight
Spare o-rings
User Manual
Mil-Spec Paracord Lanyard w/ quick attachement clip. 
Silicone waterproof cap
Flat tail-stand tailcap
Rechargeable 4500mAh/33.3Wh 7.4V Li-ion battery (IC protected, protects against over-charge/over-discharge/short circuit)
12v car charger adapter w/ 6 foot heavy duty high current cord. 
SX30L52-DR-R33 KIT (the model we sell)
also includes UL certified 10v 1.8a AC (Wall) charger, & Rigid Holster.
---