EagTac T25C2 Multi-LED MODULE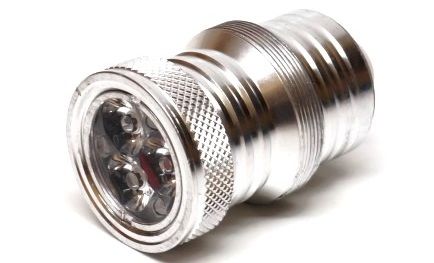 EagTac T25C2 Multi-LED MODULE
EagleTac T25C2 User Replaceable/Upgradeable MULTI (3)-LED Modules:
The Multi-LED Modules offer maximum lumen floody type output.
The user replaceable modules contain the LED, electronic circuitry/driver, and reflector in one unit - and takes just a few seconds to replace.
Simply remove head from the light, unscrew the front half of head from the back half of head to gain access to the reflector/module (The module itself unscrews in a CLOCKwise / reverse threaded direction).
(Please Note: All of our Flashlight Modules have several LED choices to select from... please click "LED Choice" on the right side of this page to see what LED is available for this Model)
OPTIONAL User Replaceable MULTI-Led Modules Available: (select in Shopping Cart)
TRIPLE cool white 1,317 Lumen LED dropin (3*CREE XP-G2 S2 219 LED)
TRIPLE NICHIA Neutral White High CRI (92) 1,100 Lumen 4000K LED dropin (3*Nichia 219

c

LED)
TRIPLE NICHIA Neutral White High CRI (92) 950 Lumen 4700K LED dropin (3*Nichia 219b LED)
TRIPLE

Osram Infrared IR 850nm 3.4w illuminator

= 10.2w
TRIPLE Red

 

Color LED dropin (3*CREE XP-E2 Color LED)
TRIPLE Green

 

Color LED dropin (3*CREE XP-E2 Color LED)
TRIPLE Blue

 

Color LED dropin (3*CREE XP-E Color LED)