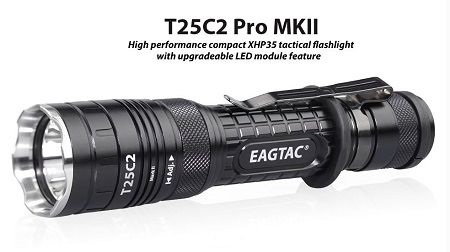 EagTac T25C2 Pro MKII
EAGTAC T25C2 Pro MKII features high output of up to 2,100 Lumens (1,700 ANSI Lumens) with the XH-P35 HD LED, using a 1x18650* Rechargeable - and offers easy user interface of Turbo / General / Low output by twisting the head.
The primary advantage of the T25C2 model/s is the inexpensive operator replaceable LED Modules (see below for details, and accessories page for replacement/upgrade modules).  The Pro MKII also uses a high amp rated tailcap switch for use with today's high amp XHP LED's.

(Please Note: Virtually all of our Flashlight Models have several LED choices to select from... please click "LED Choice" on the right side of this page to see what LED is available for this Model)

CREE XH-P35 HD LED:
LED Lumen 2,100
ANSI Lumen 1,603
LUX 23,100
or
CREE XH-P35 HI LED:
LED Lumen 1,950
ANSI Lumen 1,580
LUX 40,500

Output: Three output levels
HD 2,100*-1,410 / 1000-700-400 / 100-50-18 lumen (ANSI lumen: 1,700*-1,150 / 830-580-335 / 85-42-15)
HI 1,950*-1,310 / 950-650-370 / 85-45-16 lumen (ANSI lumen: 1,580*-1,075 / 790-540-310 / 75-38-12)

Also available with XM-L2, XP-L HI, Osram Infrared IR 850nm 3.4w illuminator, or NICHIA 219c 4000K Multi TRIPLE LED and several other LED versions ~ see T25C2 Model.

*After 60 seconds at maximum output level (100%), the active thermal management feature will be activated and continuously adjusts the maximum output level according to the flashlight internal temperature. The adjustment output range is between 80%-100%. This feature maintains the flashlight surface temperature to be about 130°F (54 °C) (higher surrounding temperature may result in higher flashlight temperature). It's normal for high power flashlight to run hot at MAX level. Reduce the output if the user finds the flashlight too warm to hold.

*NOTE: Due to the high output nature of the

T25C2

PRO XHP35 LED - a high output 18650 battery is required for optimal output and runtime performance. The battery must be able to provide 7.0+amps of power - which the "cheap" NOUN/Ultra/TrustFire and most other 18650 batteries are unable to provide. We recommend our EagTac 10amp 18650's for best fit, max output, and runtimes.
Dimensions:
Head Dia.1.3 inches (33.5 mm)
Body Dia.1.0 inch (25 mm)
Length:5.7 inches (146 mm)
Weight:4.6 ounces (130 grams)
********************
Optional User Replaceable Modules Available!
A primary advantage of the T25C2 model is the inexpensive operator replaceable LED Modules.
Different LED and color choices are available – and, as LED Technology continues to evolve, it will take but a few seconds to update the Light to the newest-brightest LED's available! (see Accessories section)
Single LED & MULTI (3) LED Modules NOW available!  XH-P35 LED Modules available, including Custom Osram Infrared IR 850nm 3.4w illuminator 2-Mode Output for use with GEN 1 through GEN 4+ NVG and other IR capable Equipment (see below Accessories)
********************
Included Accessories:

Crenulated Stainless Steel Bezel

Add-on diffuser filter with flip-cover feature



Rigid nylon holster w/ self-retention device
Cigar grip cover ring
Spare o-rings
User Manual
Mil-Spec Paracord Lanyard w/ quick attachment clip
Removeable darken pocket clip made of spring steel w/ harden treatment
Cigar grip cover ring

Optional Weapon KIT: 
EagTac weapon kit adds a remote pressure switch and an aluminum weapon rail mount to the flashlight kit. The remote pressure switch detects pressure with four independent gold plated high current switches. It also offers a separate switch for constant on and off operation. The rigid aluminum mount allows T25C2 to be mounted on the picatinny or the universal rail. (The remote pad switch or mount may also be purchased separately if both pieces are not needed)