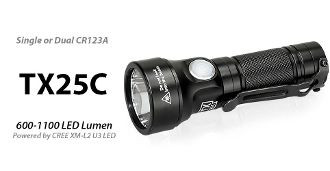 EagTac TX25C
Custom Order ~ let us know if you want one, or a hundred.
EAGTAC TX25C – 600-1,100 lumen super compact flashlight, using 1xCR123,or 2xCR123A.
All-new model, turbo head (T size like TX25C2) mini CR123A flashlight. Highest output in the market from single CR123A that offers 580 LED lumen. When using RCR123A, max LED lumen is 695. 
With the included body extension tube, user can use two CR123A that yields 1,100 LED lumen. Side switch LED sign with three stage battery report system. Single side signal switch system with user interface like the Sportac headlamp. Magnetic tail-stand tailcap with pocket clip.
CREE XM-L2 U3 LED:
LED Lumen 600 / 720 / 1,100 (*Dependent on Battery used)
ANSI Lumen 520 / 620 / 950
LUX 14,300
*TX25C automatically detects battery type and changes its output current to adapt it.  
XM-L2 T6 neutral white LED has approximately 7-10% less output lumen compared to XM-L2 U3 LED.

AVAILABLE FOR LIMITED TIME: CREE XP-L V3 "HI" Domeless LED - 550/656/1,000 Lumen, 475/567/878 ANSI Lumen, max 27,000 LUX.
Four brightness levels
Led lumen:
1xCR123A: 600*-450/160/51/9 
1xRCR123A/16340/16650: 720*-540/400/200/9 
2xCR123A: 1100*-850/640/315/9 
ANSI lumen:
1xCR123A: 520*-390/138/45/8 
1xRCR123A/16340/17650: 620*-465/345/175/8
2xCR123A: 950*-730/550/270/8 

+ Hidden auxiliary output: Beacon (1.67Hz)

Runtime:
1.5/1.9/4/12/100 hours (1xCR123A)
0.7/0.9/2.2/6/50 hours (1xRCR123A)
1/1.8/4/13/150 hours (2xCR123A)
*Turbo boost technology is activated every time you turn on at turbo output setting. It offers 25% more power to the LED for the first 200 seconds at turbo mode. This feature can be disabled.
Dimensions:
Head Dia. 1.3 inches (33 mm)
Body Dia. .8 inches (21 mm)
Length: 3.4 inches (88 mm)
Weight: 1.9 ounces (56 grams)

Battery Type:
Uses 1xCR123, 1x16340, 2xCR123, or 1x16650 with included Extension tube
Operating voltage: 1.8v-6.0v (Do not exceed 6volts. Do not use two rechargeable CR123/16340)

WHAT'S INCLUDED:
TX25C flashlight
Body extension tube for two CR123A 
Spare o-rings
User Manual
Mil-Spec Para-cord Lanyard w/ quick attachment clip
Stainless steel split ring
Titanium coated Stainless steel pocket clip
(Optional EagTac 16650 Rechargeable Battery now available, see Batteries~Rechargeable Section)

NOTE: Due to the high output nature of the TX25C - high output batteries are required for optimal output and runtime performance. 
The battery must be able to provide 2.0+amps of power - which the "cheap" Ultra/TrustFire batteries are unable to provide. 
We recommend our EagTac batteries for best fit, max output, and runtimes.