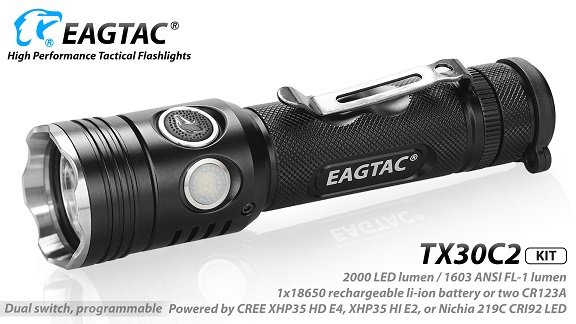 EagTac TX30C2
EagTac~EagleTac TX30C2 – 2,000 lumen compact flashlight, using 2xCR123A or 1x18650 Battery.
New improved version of the popular TX25C2, now with up to 2,000 Lumens output, and dual head switch for mode changing including a built in battery level indicator!

(Please Note: Virtually all of our Flashlight Models have several LED choices to select from... please click "LED Choice" on the right side of this page to see what LED is available for this Model)
CREE XH-P35 HD LED:
LED Lumen 2,000
ANSI Lumen 1,603
LUX 21,200
or
CREE XH-P35 HI LED
LED Lumen 1,870
ANSI Lumen 1,410
LUX 37,100
or
NICHIA 219c 4000K HIGH CRI-92 LED.
LED Lumen 880
ANSI Lumen 740
LUX 18,100

Five brightness levels
Led lumen (P35 HD): 2,000*-1,350 / 820 / 335 / 130 / 17
ANSI lumen: 1,603*-1,111 / 711 / 296 / 105 / 12
Runtime: 1-1.3 / 2.7 / 7.2 / 22 / 200 hours (1x18650 3500mAh)

Dimensions:
Head Dia. 1.3 inches (33 mm)
Body Dia. 1 inches (25.4 mm)
Length: 5.0 inches (128 mm)
Weight: 3.9 ounces (110 grams) w/ Battery

Battery Type:
Uses 2xCR123, or 1x18650
What's included
TX30C2 flashlight
Spare o-rings
User Manual
Mil-Spec Paracord Lanyard w/ quick attachment clip
CR123 Battery Magazine

Removeable darken pocket clip made of spring steel w/ harden treatment
NOTE: Due to the high output nature of the TX30C2 - a high output 18650 battery is required for optimal output and runtime performance. The battery must be able to provide 7.0+amps of power - which the "cheap" Ultra/TrustFire and most other 18650 batteries are unable to provide. We recommend our EagTac 10amp 18650's for best fit, max output, and runtimes.