EagTac TX3L Pro (RECHARGEABLE)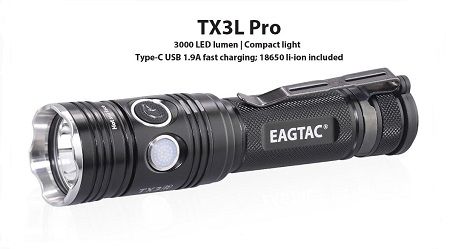 EagTac TX3L Pro (RECHARGEABLE)
NEW EAGTAC TX3L Pro – 3,000 lumen compact rechargeable flashlight, using the included 1x18650 Li-ion Battery. Type-C USB charging offers fast 2Amp charging (Pro) and the dual switch design offers easy-to-use interface with programmable start-up brightness function. TX3L is based on the popular TX3G series. More info. http://www.eagtac.com/html/tx3lpro/index.html

(Please Note: Virtually all of our Flashlight Models have several LED choices to select from... please click "LED Choice" on the right side of this page to see what LED is available for this Model)
CREE XH-P70.2 HD LED:
LED Lumen 3,000
ANSI Lumen 2,500
LUX 9,350
Five brightness levels
Led lumen: 3,000*-2,130 / 1,170 / 600 / 160 / 15
ANSI lumen: 2,500*-1,790 / 995 / 510 / 135 / 13
Runtime: 0.6-0.9 / 1.9 / 3.9 / 16 / 200 hours

or
CREE XP-P35 HI DOMELESS
LED Lumen 2,100
ANSI Lumen 1,700
LUX 37,000

Dimensions:
Head Dia. 1.3 inches (33 mm)
Body Dia. 1 inches (25 mm)
Length: 5.4 inches (137 mm)
Weight: 6 ounces (171 grams) w/ Battery

Battery Type:
1x18650
What's Included:

TX3L PRO flashlight
Crenulated Stainless Steel Bezel
L1900 Type-C / USB-C Charging Circuit
Rigid Nylon Holster w/ self-retention device
Add-on Diffuser Filter w/ Flip Cover Feature
UL Certified 5v 2A USB Charger
3.7v 3500mAh 18650 rechargeable protected li-ion battery

Spare o-rings
User Manual
Mil-Spec Paracord Lanyard w/ quick attachment clip
Flat Tail-Standing tailcap with magnet in black finish.

Type-C USB Charging Cable (3.3feet/1meter w/ AWG24 copper wire

NOTE: Due to the high output nature of the TX3L PRO - a high output 18650 battery is required for optimal output and runtime performance. The battery must be able to provide 7.0+amps of power - which the "cheap" Ultra/TrustFire and most other 18650 batteries are unable to provide. We recommend our EagTac 10amp 18650's for best fit, max output, and runtimes.