LumaPower D-mini VX Ultra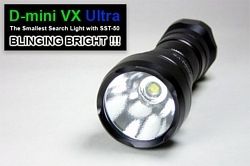 LumaPower D-mini VX Ultra
LumaPower D-mini VX Ultra (CREE XM-L) 600 Lumens - using 1x18650 or 16340
(incls 2-body Tubes = 18650 & 123 TUBES)

3-Mode - Low, Medium, High
Emitter Output: 25-550/600 Lumens
95 minutes High w/ 1x18650)
4000 minutes Low w/ 1x18650
Batteries: 1x18650, or 1xR123/16340 Li-Ion (1xCR123 for emergency use only - use only ONE battery!)
Input Voltage: 3.3v to 4.2v
Activation: Half press to cycle between levels, last level used is memorized.
To keep/lock a level as default - select desired level, 4 half-press within 1 second locks level (to unlock - 4 half-press within 1 second)
Reflector: OP Reflector
Length: 95mm (standard tube)
Bezel Diameter: 37.5mm
Body Diameter: 24mm
Weight: 88g w/ standard tube (w/o battery)
Material: T6061 Aircraft Aluminum
Coating: Type III HA Black
Included Accessories: Spare 0-rings, switch cap,
and incls 2-body Tubes 123 and D-65 EXT/18650.
 WARNING: DO NOT USE 2x 123's!