LumaPower EDC LM21 w/ Holster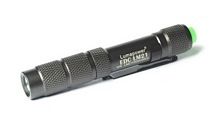 LumaPower EDC LM21 w/ Holster
LumaPower EDC LM21 v2015 - 1xAAA or 1x10440 Battery - up to 400 Lumen Light
= the smallest & brightest clicky switch light?

CREE XP-G2 R5 CW / XP-G2 R4 NW
1xAAA - Alkaline, NiMH, 10440 Li-ion
Input Range 0.9v-4.2v
Emitter Output 1: 98 Lumens (NiMH Battery)
Emitter Output 2: 400 Lumens (when using Li-ion/IMR Battery)
Output Levels: 100%, 50%, 10%
Runtime: High 42 / 20 min. Medium 260 / 160 min Low 3200 / 2500 min

Length: 90mm
Head Diameter: 14.5mm
Weight: 21gms (w/o Battery)
Included Accessories.Parts: O-rings, Lanyard, andHOLSTER.
NOTE: Due to the high output nature of the LM21 - a high quality IMR or Li-ion 10440 BUTTON top - is the recommended battery for optimal/MAXoutput. (The battery must be able to provide 1.5+amps of power = which the "cheap" Ultra/TrustFire Li-ion batteries are unable to provide)
Try our SoShine 10440's, it's what we use!