LumaPower GT Upgrade Kit for Incendio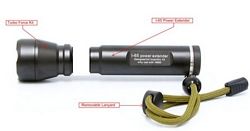 LumaPower GT Upgrade Kit for Incendio
LumaPower Incendio V3 / V3+ / V3+ LE / V3U / V3U+ / V3X GT Upgrade Kit
(Incendio flashlight not included)
Turbo Force Head & I-65 18650 Body/Power Extender - for adding increased capabilities to your Incendio.
Max throw with head, or Max runtime with an 18650 battery, or both.
(You may mix-n-match the parts - use stock Incendio head plus 18650 body, or GT Head with stock body, etc)
WARNING: DO NOT USE 2x 123's - never use more than ONE battery regardless of configuration!

Dimensions:
Turbo Force Head (L x D): 1.7" x 1.35"
I-65 Extender (L x D): 3.75" (3.45" from end of installed engine) x 1"
Included: GT/Turbo Force Head, I-65 Power Extender 18650 battery Tube, pocket clip, lanyard ring, lanyard, pare 0-rings, spare switch cap,