LumaPower Incendio w/ Holster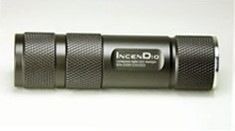 LumaPower Incendio w/ Holster
LumaPower INCENDIO V3 SERIES - 1xCR123 or 1x16340 Battery - Now up to 610 LUMENS! (XM-L2 U3 version)

IncenDio V3U

+

(CREE XP-G2 R5)



250 Lumens (using 1xCR123) /
420 Lumens (using 1xR123/16340)
IncenDio V3

X

(CREE XM-L

2 U2

)

2014 Model

380 Lumens (using 1xCR123 Lithium Battery) /
610 Lumens (using 1xR123/16340 Li-ion Battery)
(Neutral White Models Average 7-8% Less Lumens)
(WARNING: Do NOT run light on 500+ lumen mode for more than 1-2 minutes at a time - LED and/or battery damage can occur)

4-Mode - 3%, 15%, 40%, 100%
90+ minutes runtime on high, 1,500 minutes on low.
Batteries: 1xCR123 or 1xR123/16340 Li-Ion (2.0-4.2V MAX) or 18650 w/ optional battery tube
NOTE: Due to reverse polarity protection at the head - the Incendio requires a tall button top battery in order to function correctly. We recommend an IMR 16340 for MAX output, the UltraFire/TrustFire 16340 are garbage.

Activation: Half press to cycle between levels (Low, Medium, Normal, High), last level used is memorized.
To keep/lock a level as default - select desired level, 4 half-press within 1 second locks level (to unlock - 4 half-press within 1 second)
Reflector: OP Reflector
Length: 80mm
Bezel Diameter: 21.5mm
Body Diameter: 21.5mm
Weight: 36g (w/o battery)
Material: T6063 Aircraft Aluminum
Coating: Type III HA Dark Grey
Included Accessories: Spare 0-rings, switch cap, pocket clips, lanyard ring, holster.
We include a FREE Diffuser Cap to convert Incendio into a lantern light.