MecArmy SGN3, w/ Micro Charging Cable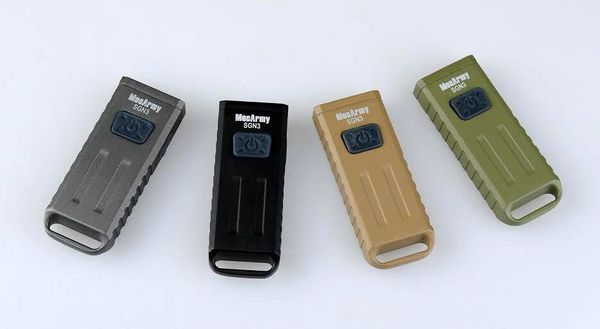 MecArmy SGN3, w/ Micro Charging Cable
The Mini rechargeable MecArmy SGN3KeyChain/Lanyard flashlight models and accessories are all the same ~ other than body color.
5-Mode 3 LED (White, UV, Red), 160 Lumen Max/5 Lumen Low, includes 280mAh Li-Po Battery Rechargeable via Micro USB plug.

MecArmy SGN3 Multifunction Keychain/Lanyard/Necklace Light. 
NOTE: Our Light DOES come with charging cable.

SPECIFICATIONS:
White Light: 160 / 50 / 5 ANSI Lumens
Runtime: 60 Min / 3 hours / 13 hours
3mm UV 365nm LED (1-Mode)
3mm RED 620nm LED (1-Mode)
Charging time up to 1.5 hours.
LED: CREE XP-G2
Reflector: SMO
Max Output: 160 Lumens
Max Run Time: 13 hours
Max Beam Distance: 40 Meters
Max Beam Intensity: 410 ccd
Battery: 280mAh Li-Po (included)
Length: 59 mm (2.32")
Width: 23mm (.90")
Height: 10mm (.40")
Weight: 38g (1.3oz)
Waterproof IPX-5 Standard
WHAT'S INCLUDED:
SGN3 Light
Lanyard
1xLi-Po Battery
*1xMicro USB Charging Cable*
(Note: The Manufacturer-Altun, offers three branded versions of this light. The other two brands are intended only for the China Market, and does not include any Dealer or Manufacturer Warranty at all/None/Nada/Zip/Zero outside of China!)
ONLY the "MecArmy" brand has a 5 year Warranty - Worldwide. 
More Info http://www.mecarmy.com/