illuminationGear ~ Our IR lighting.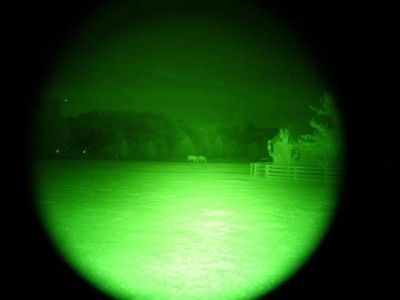 illuminationGear ~ Our IR lighting.
Handheld and Weapon Mountable IR (Infrared) Lights - InfraRed / IR (aka illuminator) - For use with GEN 1 through GEN 4+ NVG and other IR capable Equipment,
IR/Infrared light is invisible to human eyes:
The IR products listed in our IR section use very high output 850nm (or optional 940nm) InfraRed (IR) LED for maximum output - these IR LED's produce significantly more IR output than an Incandescent bulb with IR lens filter installed.

ET T100C2 3.4w IR Model (Discontinued, replaced by T200C2 IR Model)

Distance to horses is 225yds, tree line is 1/4 mile!
ET M3C4 10.2w IR Model (Discontinued, replaced by 13.6w MX25L4-C IR Model)






Distance to tree line is 880yds



(Photos provided by/used with Permission and Courtesy of "SkyPup" of Predatormastersforums.com)
In both cases above, note the IR light is aimed downward to show beam output type/shape, and thus, max distance is not fully shown!
NOTE: The our "IR" listed flashlights are available with numerous LED Choices
(in addition to INFRARED).
Virtually all LED lights on the market have pre-installed non-replaceable LED's, thus you must select the desired LED pre-installed when adding item to cart.

The

P25/T25/P60 series lights have user replaceable LED modules.
Several

OPTIONAL LED modules are available for purchase to replace the stock LED module that comes pre-installed in the light.


If IR Output is desired, in all cases ~ LED Choice: "Custom LED, 3.4w IR" must be selected when adding item to cart. (if Custom IR LED is NOT Selectable - it is currently Out-Of-Stock)
CAUTION: Due to the high output IR emitted - you must not directly look at the INVISIBLE IR output with your eyes - permanent eye damage will occur.
Our Osram 3.4w IR LED are the highest output LED available, and CUSTOM installed/built for us by EagleTac - these 3.4w LED have been evaluated as putting out double the output of other "3.0w" to "5.0w+" Lights.