SporTac P60 Balance XHP35 LED Module ONE-Mode (incls adapter ring)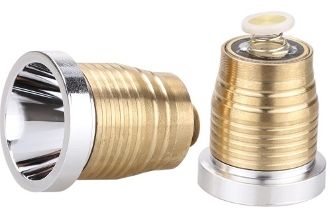 SporTac P60 Balance XHP35 LED Module ONE-Mode (incls adapter ring)
SPORTAC P60 "BALANCE" 1-MODE Single LED Dropin fits SureFire® & 18650 hosts
, by EagTac
(We Include the 18650 Aluminum Spacer Ring for max compatibility) up to
1,560
Lumens. (Replaces P60/P61~P90/P91 Lamp Modules)
To toggle brightness levels, simply switch the light OFF and ON after turning the flashlight ON. The micro-processor in the circuitry memorizes the last output you have turned ON for more than one second.

Optimized for far projecting beam.
(Please Note: All of our Flashlight Modules have several LED choices to select from... please click "LED Choice" on the right side of this page to see what LED is available for this Model)

CREE XH-P35 LED,
ONE Mode Output 
1,560 LED lumen / 1,280 ANSI FL-1 lumen (XH-P35 HD LED)
1,450 LED lumen / 1,190 ANSI FL-1 lumen (XH-P35 HI LED)
Center LUX TBD
Active Thermal Management controls output 100%-40% depending on internal temperatures.

Runtime: 1-1.3 hours (1x18650 3500mAh)
Voltage input: 2.7V - 9V Max (18650 or CR123's)
Limit CR123 batteries to intermittent use only due to high amperage loads, most CR123 batteries will be unable to power this module safely!
Highly recommended: good quality tailcap

 

spring

 

&

 

switch

 

that is able to handle 5A+ current.
Longer run times, higher efficiency, runs cooler compared to the MAX version.

Weight: 1.1o.z. (31gram)
Compatible with most standard SureFire® & 18650 aluminum P60/P61/P90/P91 flashlight hosts.
Installation: Remove batteries and flashlight head, then replace the P60 module inside. Attach the flashlight head and ensure it's tightened snugly for proper electrical contact.

NOTE: Like most lights - these modules do require protruding "button top" batteries to function.
NOTE: Due to the high output nature of the P60 - a high output 18650 battery is required for optimal output and runtime performance. The battery must be able to provide 7.0+amps of power - which the "cheap" Ultra/TrustFire and most other 18650 batteries are unable to provide. We recommend our EagTac 10amp 18650's for best fit, max output, and runtimes.



Disclaimer: SureFire®, LLC is not associated in any way with SPORTAC. All other trademarks not owned by SPORTAC are the property of their respective owners.