Sportac DH10LC2 Headlamp (FLOODY)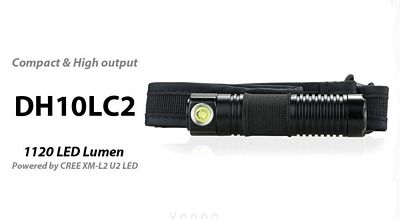 Sportac DH10LC2 Headlamp (FLOODY)
SPORTAC DH10LC2 HEADLAMP (FLOODY Output), by EagTac/EagleTac, with 5-Modes and 1,1288 Lumens using 2xCR123 or 1x18650 Battery (No RCR123/16340). Sportac's entry into the high end Headlamp Marketplace.
The DH10 series free your hands whether you are working with close-up work between short and medium distances with MAX lumen output.

(Please Note: Virtually all of our Flashlight Models have several LED choices to select from... please click "LED Choice" on the right side of this page to see what LED is available for this Model)
CREE XM-L2 U4 LED
LED Lumen: 1,288*-1,150/674/261/90/6
OTF Lumen: 943*-863/506/196/68/4
Center LUX: 1,100
or, also available RED LED
or
Nichia 219c Neutral White (4000K HIGH CRI-92) LED.

LED lumen: 483*/330/43/9
ANSI FL-1 lumen: 345*/235/30/7
Center LUX: TBD

Battery Runtimes: 
0.8*-1.5/4.5/15/150 hours (2xCR123A)
1.5*-2.8/8/25/200+ hours (1x18650)
With Battery voltage Indicator/Guage
*Turbo Mode 200 Seconds

Dimensions: 
Length: 3.8 inch (97 mm)  
Body Diameter: 0.9 inches (23 mm)
Head Diameter: 0.93 inch (23.5 mm) 
Weight (excluding batteries): 1.4 ounces (43 grams)
Operating Voltage: 2.7v-6v

One press for MAX or MIN output
Press and hold the on/off switch button from off for MAX output. Press and release quickly (within 0.3s) to turn on the headlamp at MIN output to preseve your night vision.
Five pre-defined output levels
Press and hold the on/off switch to toggle between five well defined brightness output. Press and hold for more than 10 seconds to enable 1.5Hz blinking mode.
What's Included:

DH10LC2 flashlight
Spare o-rings
User Manual
CR123 Battery Magazine
Lightweight nylon headlamp headband
(Optional) Bike Helmet nylon mounting band