SporTac P60 TRIPLE LED Module TWO-Mode (incls adapter ring)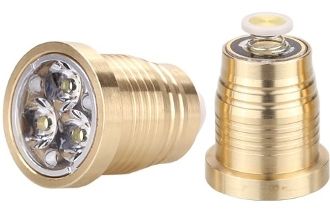 SporTac P60 TRIPLE LED Module TWO-Mode (incls adapter ring)
SPORTAC TRIPLE LED P60 2-MODE Dropin fits SureFire® & 18650 hosts
, by EAGTAC
(We Include the 18650 Aluminum Spacer Ring for max compatibility) up to 1,224 Lumens - 2 Brightness Levels 100% & 20%. (Replaces P60/P61 Lamp Modules)
To toggle brightness levels, simply switch the light OFF and ON after turning the flashlight ON. The micro-processor in the circuitry memorizes the last output you have turned ON for more than one second.

For maximum lumen output. FLOODY beam:
(Please Note: All of our Flashlight Modules have several LED choices to select from... please click "LED  Choice" on the right side of this page to see what LED is available for this Model)


3x
 CREE XP-G2 S2 Cool White LED
, o
r 1,200 Lumen 3x Osram CSLPM1 for max LUX.
for the discriminating palate
3x Nichia 219c 4000K HIGH CRI-92 LED
, or
newest
3xLuminus SST-20 R9 4000K 95+ HIGH CRI LED
.
1,224 / 1,035 LED lumen (3*XP-G2 S2 / 3*Nichia 219c CRI92 LED)
925 / 777 ANSI FL-1 lumen (3*XP-G2 S2 / 3*Nichia 219c CRI92 LED)
Center LUX 4,200
2-Brightness Levels 100% & 20%
Runtime: 1.6/10 hours (1x18650)
Runtime: 0.8/6 hours (2xCR123)
Voltage input: 2.7V -

 6V

 Max (1x18650/16650 or 2xCR123 = NO 2xRCR123/16340's!)
Weight: 1.3o.z. (36g)
Compatible with most standard SureFire® & 18650 aluminum P60/P61 flashlight hosts.

Also Custom Made for us by SporTac -

using the Brightest/Highest output LED's currently available

~

RED

,

 

GREEN,

 

BLUE

,

 

AMBER

,

 

UV (UltraViolet) 395nm, 365nm

, 
and
 

IR (InfraRed) 850nm

.
CAUTION: Our high output IR and UV devices emit highly concentrated non visible infrared or UltraViolet light which can be hazardous to the human eye!


Installation: Remove batteries and flashlight head, then replace the P60 module inside. Attach the flashlight head and ensure it's tightened snugly for proper electrical contact. 
NOTE: Like most lights - these modules do require protruding "button top" batteries to function.

Disclaimer: SureFire®, LLC is not associated in any way with SPORTAC. All other trademarks not owned by SPORTAC are the property of their respective owners.