SporTac ZP10L9 - BATTERY PACK Edition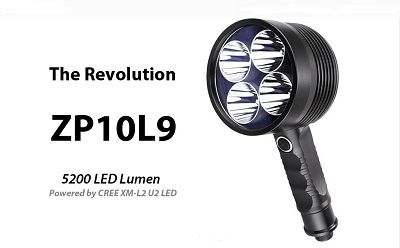 SporTac ZP10L9 - BATTERY PACK Edition
SPORTAC ZP10L9 Battery Pack Edition, by EAGTAC - The flagship ZP10L9 is the first of its kind ever built. Commanding 5,200 lumen long distance LED output beam with the comfortable pistol grip. Compact body, light weight design and external battery compartment arrangement make ZP10L9 extremely versatile for long hours of usage for professionals.
Powered by four top binned CREE XM-L2 U2 Cool White, capable of delivering maximum exhilaration with crazy lumen. Neutral white output color is also available with CREE XM-L2 NW T6 LED. 
Uses 9 (Included) pre-sorted and balanced 18650 li-ion batteries.

(Please Note: Virtually all of our Flashlight Models have several LED choices to select from... please click "LED Choice" on the right side of this page to see what LED is available for this Model)
4x CREE XM-L2 LED
LED Lumen: 5,200* / 3,180 / 1,640 / 420 / 15
OTF Lumen: 4,500* / 2,765 / 1,430 / 365 / 13
Center LUX: 103,700

Also, CUSTOM Model Available:
Cree XP-L HI Domeless 5,120 Lumens, 4,310 ANSI Lumens, 193,100 LUX!

Battery KIT Runtimes: 
(*Turbo/high/low/moon) 2* / 3.5 / 7.5 / 32 / 800 hours (9x18650)
Dimensions: 
Height: 7.6 inch (192 mm)  
Grip Diameter: 1.2 inches (30 mm)
Head Diameter: 3.7 inch (93 mm) 
Body Weight: 1.6 pounds (710 grams)
Operating Voltage: 10-24v
What's included:
ZP10L9C flashlight

Spare o-rings

User Manual

Cable secure cap

Two models available (see below)
Car charger edition:
Includes everything listed in "what's included" section, plus:
Car charger (Coil cord cable)
Idle cable length: 2 feet/0.6 meter
Fully extended cable length:
11.5 feet/3.5 meter
Fuse protected
High current copper wire with heavy duty PU insulator
RED LED connection indicator
Waterproof connectors
Custom-made car charger metal parts for better conductivity

Battery pack edition: (The model we offer)
Includes everything listed in "What's Included" section, plus:
11.1V 7800mAh Battery Pack (9x18650)
Uses 9 (Included) sorted and balanced 18650 li-ion 2600mAh batteries.
Installed permanently inside a durable EVA molded nylon carrying holster
Safety circuit protected against short circuit, over-discharge, or over-charge

Battery extension cord (coiled cord)
Idle cable length: 1 feet/0.3 meter
Fully extended cable length:
4 feet/1.2 meter
High current copper wire with PU insulator
Waterproof connectors

11.1V battery charger
Includes UL listed 15V 1.6A charger (100V-240V)
Uses standard constant current / constant voltage charging method
Uses DC-DC switch charging controller for highly efficient operation
Built-in ten hours safety time
Blue (standby) and Red (charging) LED indicator
Anodized aluminum housing