XTAR D2 Li-ion Intelligent Charger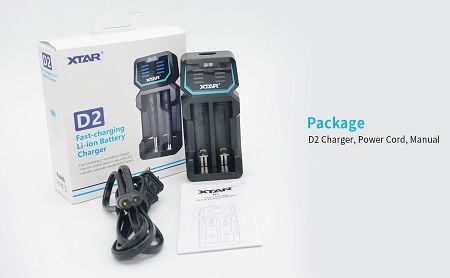 XTAR D2 Li-ion Intelligent Charger
XTAR D2 Li-ion Intelligent Charger - charges at up to 2,000mAh (on 1 slots).
XTAR D2 can meet all kinds of your requirements. It can charge Li-ion batteries at the same time with three optional currents for different capacities.

Intelligent 2-bay Charger for 1 to 2 pieces of 14500~26650 Li-ion Batteries (any size Li-ion between 14500 and 26650).
Professional Li-ion battery charger with THREE optional charging current (0.5Ax4/1.0Ax4/2Ax1)

Compatible with Li-ion
Short circuit protection
Auto activate function for Li-ion battery cell open (0 Voltage).


NOTE: Li-Ion cells can be hazardous - never leave charging cells unattended, and remove cells from charger once charging cycle has finished!