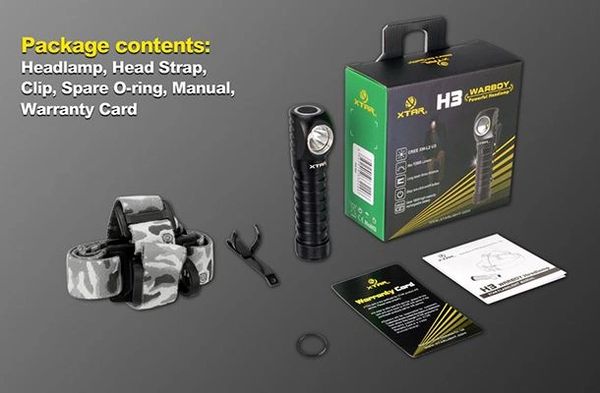 XTAR H3 Warboy Headlamp
XTAR H3 Warboy - 18650/18700 headlamp.
XTAR H3 WARBOY Headlamp utilizes the latest premium CREE XM-L2 U3 LED with max 1,000 Lumens (950 Lumens with optional WARM Tint Model, for more natural looking outdoor activities).
The weight is only 50g but once it goes with an 18650 battery, you can have it last for 4.5+ hours with 400Lm mode and last for whole night with 200Lm mode and even days with 70Lm mode. With click on/off button, you can easily choose 1,000 Lm/400 Lm /200 Lm/70 Lm/1 Lm modes for different purposes. Let the best headlamp to help you to less your burden and fight for your own rules!

Features:
Easy one click on/off button
Five modes – Press button for 1.2s to choose 1000/400/200/70LM modes or quick double-click to get 1LM Moonlight mode
Comfortable head strap
Weight only 50g (Battery and Head Strap Excluded)
Use common 18650/18700 rechargeable Li-ion batteries (no CR123)
Tail stand capability
Reverse polarity protection
ANSI

Illumination levels

Luminance

Turbo

High

Mid

Low

Moonlight

1000LM

400LM

200LM

70LM

1LM

Runtime(XTAR 3100mAh)


2.9H

4.5H

10H

28H

30D

This Headlamp includes:
- XTAR H3 Warboy Headlamp
- Stainless Steel Clip
- Spare O-ring
- Head strap
- O-Ring
- Manual
- Warranty Card