XTAR Moon RC2 Rechargeable, clip on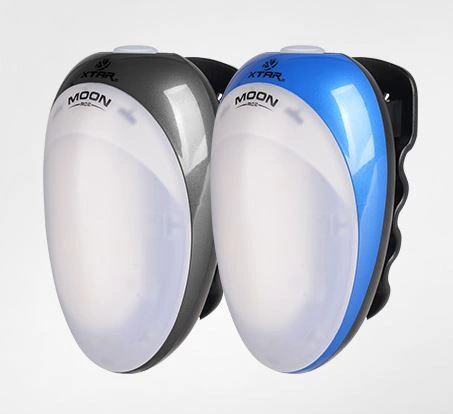 XTAR Moon RC2 Rechargeable, clip on
XTAR MOON RC2 is a multipurpose rechargeable light can be clipped to anywhere you want for a wide variety of usages.
Five LED Lighting Modes can be chosen in various situations, with 120 lumen high, and 3 lumen low.

Fixing the light on your belt, you can run at night easier without holding a flashlight or wearing a headlamp. You can also read with MOON fixing on the bed or camp with its fixing on the tent, and many other applications like cycling, exploring, dog walk, solar home lighting and more.
Charge anywhere. Compatible with any USB Power including USB wall adapter, cell phone charger, solar panel, PC USB, etc. Can be also used while charging.

Samsung LED (5), CRI 80+
LED Lumen: Strobe 120 / 120 / 60 / 30 / 3
Runtimes:  -  / 4.2 / 9 / 16 / 120 hours
Shell Color: Optional Grey or Blue
Material: ABS+PC
Power Source: 5v/1A
Charging Port: Micro USB
Battery: Built-in rechargeable 2200mAh battery
Battery Power Indicator: Green > 45min, Red >15 min, Flashing Red < 15 min
Net Weight: 87.5g / 3.1oz
Size/Dimensions: 82.5Lx55Wx45H mm / 3.25"L x 2.17"W x 1.77"H

What's Included:
RC2 Light, w/ built in battery
USB Cable
User Manual
Warranty Card