XTAR OVER 4 SLIM Li-ion Intelligent Charger w/ AC/Wall Adapter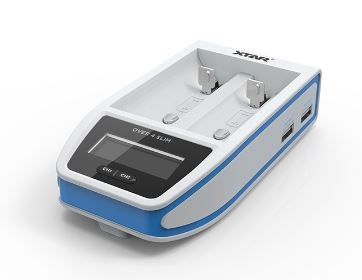 XTAR OVER 4 SLIM Li-ion Intelligent Charger w/ AC/Wall Adapter
XTAR Over 4 Slim Li-ion Intelligent Charger - 2-Bay - charges at up to 4,100mAh/4.1a
Fast and Safe.
· Max 2x4.1A, the fastest charger ever
· Impressive low temperature rise
· Battery internal resistance testing protection
· Battery temperature testing with overheat protection
· 1A/2A/4.1A optional current for each slot
· Dual 5V/2.4A USB ports
· Informative LCD screen display
· All-around protections
Designed for today's larger higher capacity Li-ion/IMR/INR/ICR batteries, and offers up to 4.1 amps 
charging rate. (2x1A/2A/4.1A each slot)

AC power: 100-240V 50/60Hz


NOTE: Li-Ion cells can be hazardous - never leave charging cells unattended, and remove cells from charger once charging cycle has finished!