XTAR PB2 2.1A 1-Port USB Charger/Power Supply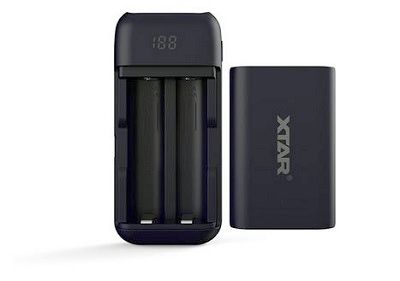 XTAR PB2 2.1A 1-Port USB Charger/Power Supply
XTAR PB2 1-Port USB Charger/Power Supply
The Revolution of Traditional Charger.

Portable battery charger with power bank function! 

Used as a power bank:

• Max 2.1A USB output, fully charge iPhone 7 Plus in 2hrs.

• Protect our environment with replaceable batteries design, control the quality of the cells yourself and DIY the capacity of your mini power bank up to 7000mAh+.

• Battery charge & discharge balancing technology makes all of capacity available for use and increase each cell's longevity.

• Conversion efficiency up to 92%.

• Hand-held portable charger with magnetic cover design, fast charge your USB devices and all kinds of cell phones anywhere anytime.

Used as a battery charger:

• Max real 2Ax1/1Ax2 charge current, fully charge 1x2500mAh 18650 in 1.5hrs or 2x2500mAh 18650 in 3hrs.

• Equipped with all XTAR unique features like 0V Activation function revives over-discharged batteries, TC/CC/CV three-stage charging maximizes battery lifespan, multi-protections and so on.
Features:
Acts as a charger and as a portable power bank
Magnetic cover allows for easy inserting and removing of batteries
0V activation function lets you reactivate overcharged batteries
The new generation intelligent chip lets you just plug in and charge - no restarting necessary
Constructed out of flame retardant material
Short Circuit, Reverse Polarity, and Overheat protection
RoHS, FCC, and CE Certified
Covered by Xtar's 1-Year Warranty
Package Includes:

PB2
USB Cable
Multi-Language Manual
18650 Batteries are NOT Included.



Specifications:
NOTE: "protected" 18650 will not fit ~ must use flat top / 65mm +/- length Li-ion/IMR/ICR/INR cells.
Input: 5V 2.1A
Constant Current: 2A x 1 / 1A x 2
Dimensions:

Length - 4.33" (110 mm)
Width - 2.00" (51 mm)
Height - 0.94" (24 mm)

Weight: 1.94 oz (55 g)