XTAR SP1 Li-ion Intelligent Charger w/ AC & DC Cords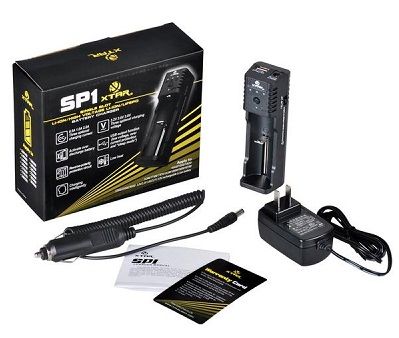 XTAR SP1 Li-ion Intelligent Charger w/ AC & DC Cords
XTAR SP1 Li-ion Intelligent Charger - 1-Bay - charges at up to 2000mAh/2.0a
Intelligent 1-bay battery USB powered Li-ion Charger for 1 pc 14500~26650 Size Li-ion Batteries (any size Li-ion between 14500 and 26650).
3.6v/3.7v Li-ion Battery Charger (Charges to 4.2v or 4.35v)
Designed for today's larger higher capacity Li-ion batteries, and offers up to 2.0 amps
charging rate.

Switchable 500-1000-2000mAh charging rate.
(DO NOT USE higher than 500mAh setting for charging smaller 14500, R123/16340, etc sizes)

AC power: 100-240V 50/60Hz
DC power: 12VDC Automotive
Our XTAR SP1 Li-Ion Charger SET incls. both AC/Wall & DC/Car Power Cords.

NOTE: Li-Ion cells can be hazardous - never leave charging cells unattended, and remove cells from charger once charging cycle has finished!