XTAR VC2 PLUS MASTER Li-ion/NiMH/NiCD Intelligent Charger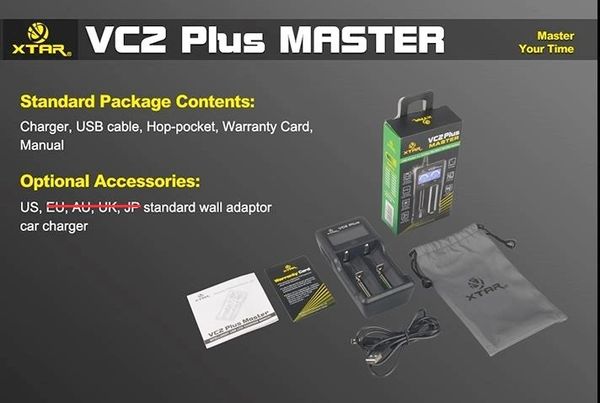 XTAR VC2 PLUS MASTER Li-ion/NiMH/NiCD Intelligent Charger
XTAR VC2 Plus MASTER - Li-ion/NiMH/NiCD Intelligent Charger w/ LCD Display - charges at up to 1,000mAh.

As a breakthrough innovation, VC2 Plus Master is a smart charger that has countdown timer for each bay showing the time it needs to fully charge the battery. 
It can recognize, charge, and display both Ni-MH and Li-ion batteries at the same time and you can totally control the charging speed (0.5A/1.0A) as you like. In order to save time, the USB Output with Power-Path Management System enables you to charge both batteries and the external device at the same time while power is connected!
Intelligent 2-bay Charger for 1 or 2 pieces of 10440~26650 Li-ion Batteries (any size Li-ion between 10440 and 26650). Or 1 or 2 pieces of AAAA/AAA/AA/A/SC/C/D size NiMH/NiCD Batteries.

Battery fully charged countdown timer
USB output 5v/1a
Battery input power icon and percentage display
USB output battery power percentage display
Batteries and device charging at same time
0v activation
Short circuit protection
Red-Green LED indicator

Switchable 500-1,000mAh charging rate 
with USB 5v/500mA Output (Use an 18650 to Charge USB Device)
Optional AC power: 100-240V 50/60Hz 
Optional DC power: 12VDC Automotive
 
NOTE: Li-Ion cells can be hazardous - never leave charging cells unattended, and remove cells from charger once charging cycle has finished!