XTAR VC4 Li-ion/NiMH/NiCD Intelligent Charger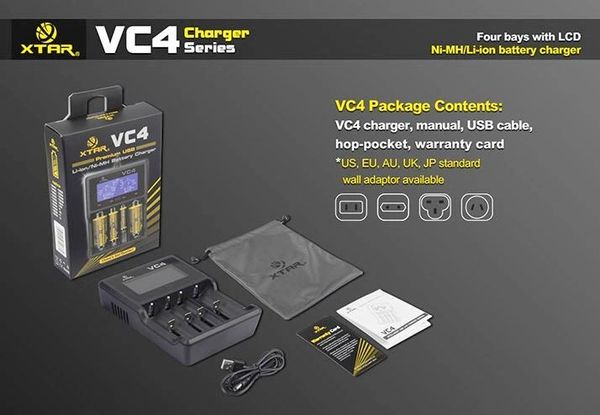 XTAR VC4 Li-ion/NiMH/NiCD Intelligent Charger
XTAR VC4

- Li-ion/NiMH/NiCD Intelligent Charger w/ LCD Display - charges at up to 1,000mAh (on 2 bays).



Independent 4-Channel Charger.
XTAR VC4 is not only the upgraded version of both VC2 and XP4c chargers, but also the combination of our principle to keep making progress and taking the responsibility for the safety and environment protection. The VC4 can recognize/ display/ charge Ni-MH and Li-ion batteries at the same time and it also displays the charging current, battery voltage and charging capacity.
Intelligently identify a battery's input power and automatically adjust suitable charging method and charging current from 0.1A to 1.0A and up to 0.5A*4 / 1.0A*2 max.
Intelligent 2-bay Charger for 1 or 2 pieces of 10440~26650 Li-ion Batteries (any size Li-ion between 10440 and 26650). Or 1 or 2 pieces of AAAA/AAA/AA/A/SC/C/D size NiMH/NiCD Batteries.

Compatible with Li-ion/NiMH/NiCD
Display how much capacity charged
Self-adjust charging current
0v activation
Short circuit protection
Red-Green LED indicator

3.6v/3.7v Li-ion Battery Charger (Charges to 4.2v)

Switchable 500-1,000mAh charging rate
with USB 5v/500mA Output (Use an 18650 to Charge USB Device)
Optional AC power: 100-240V 50/60Hz
Optional DC power: 12VDC Automotive

NOTE: Li-Ion cells can be hazardous - never leave charging cells unattended, and remove cells from charger once charging cycle has finished!