XTAR VP2 Li-ion Intelligent Charger w/ AC & DC Cords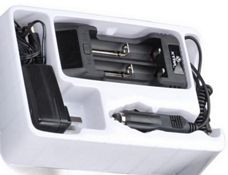 XTAR VP2 Li-ion Intelligent Charger w/ AC & DC Cords
XTAR VP2 (New-Version) - Li-ion Intelligent Charger w/ LCD Display - charges at up to 1000mAh/1.0a
Intelligent 2-bay Charger for 1 - 2 pieces of 10440~26650 Li-ion Batteries (any size Li-ion between 10440 and 26650).

The XTAR VP2 is a professional lithium-ion battery charger with three charge current options, and three voltage options, plus a USB power output feature - with precise voltage and battery level real time LCD display.
Output: DC 3.0/4.35v
Adjustable: 250mAh/500mAh/1000mAh charging current.
Switchable Voltage:
3.2v LiFePO4 Battery Charger (Charges to 3.6v)
3.6v/3.7v Li-ion Battery Charger (Charges to 4.2v)
3.8v Li-ion Battery Charger (Charges to 4.35v)
(Please Make sure to use the correct setting for charging each battery type, and do not attempt to charge two different type battery chemistries at same time!)
TC/CC/CV Three-Phase Charging System

Soft start function to avoid damaging the battery's with instant large current.
Reverse Polarity Protection
AC power: 100-240V 50/60Hz
DC power: 12VDC Automotive
Our XTAR VP2 Li-ion Charger SET incls. AC/Wall & DC/CAR Power Cords.
NOTE: Li-Ion cells can be hazardous - never leave charging cells unattended, and remove cells from charger once charging cycle has finished!