XTAR VP4 Li-ion Intelligent Charger w/ AC & DC Cords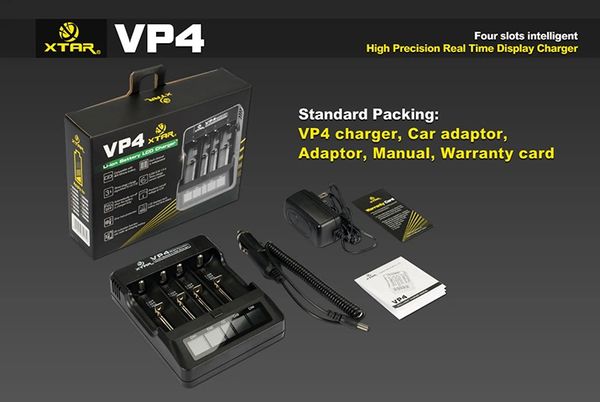 XTAR VP4 Li-ion Intelligent Charger w/ AC & DC Cords
XTAR VP4 - Li-ion Intelligent Charger w/ LCD Display - charges at up to 1000mAh/1.0a
Intelligent 4-bay Charger for 1 to 4 pieces of 10440~26650 Li-ion Batteries (any size Li-ion between 10440 and 26650).

The XTAR VP4 is a professional lithium-ion battery charger with three charge current options - with precise voltage and battery level real time LCD display.
Adjustable: 2 Outer Slots @250mAh/500mAh/1000mAh charging current.
2 Inner Slots @250mAh/500mAh charging current.
- Compatible with IMR lithium battery
- Each channel is independent
- Three-stage charge algorithm(TC-CC-CV)
- Three charge current options (0.25 A, 0.5 A, and 1.0 A)
- Soft-start function, to avoid damage from large charge current while charging.
- Automatically cut off when the battery is charged fully
- Precision cut-off voltage at 4.2V
- Compatible with small capacity battery
- Over heat protection
- LCD displays each battery real time statues
- Use high power intelligent step-down DC - DC circuit, greatly reduce the energy loss;
- Built-in reverse-polarity and short-circuit protection circuit
- Use fireproof material for the shell
- 0V activation function can wake up the over-discharged/sleeping batteries
- 120°angle high definition VA screen to display the charging current ,voltage and power indicator, you can see the charging status from any angle of view.
- Certified by CE, RoHS
AC power: 100-240V 50/60Hz
DC power: 12VDC Automotive
Our XTAR VP4 Li-ion Charger SET incls. both AC/Wall & DC/Car Power Cords.
NOTE: Li-Ion cells can be hazardous - never leave charging cells unattended, and remove cells from charger once charging cycle has finished!