XTAR DRAGON VP4 PLUS Li-ion/NiMH/NiCD Intelligent Charger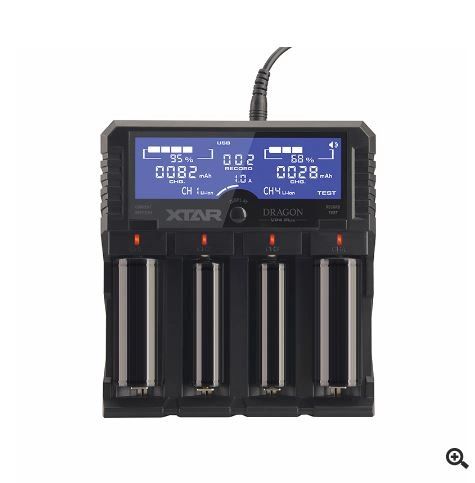 XTAR DRAGON VP4 PLUS Li-ion/NiMH/NiCD Intelligent Charger
XTAR DRAGON VP4 Plus

- Li-ion Intelligent Charger w/ LCD Display - charges at up to 2000mAh/2.0a

XTAR DRAGON VP4 Plus is specially designed for people who pursue superior quality of life, have a strong consciousness of safety and would like to catch fashion.
There are four main functions of DRAGON: battery pack and battery charging, REFRESH/TEST modes, battery internal resistance test, USB output. It can intelligently distribute the power when charging your 11.1V/3s battery pack, Li-ion/Ni-MH batteries and USB mobile devices simultaneously. What's more, DRAGON can also test the capacity, voltage and internal resistance of batteries precisely.
DRAGON, not just a charger, but your personal battery doctor!
Independent 4-Channel

Specifications:
Li-ion compatibility: for all sizes, 10440~32650

(

any size Li-ion between 10440 and 26650

).

NiMH compatibility: AAAA, AAA, AA, A, SC, C, D

Battery pack compatibility: 11.1V/3S

Charge current: 0.5A, 1.0A, 2.0A

Test and refresh mode

USB Output for charging mobile devices

Advanced LCD Screen Information:

Charging Current

Battery Status

Battery Capacity Percentage

Battery Types and Channels

Battery Voltage

Battery Resistance

Charge / Test / Refresh status

3S Pack / USB Output Status

Three color LED indicators

Includes:

VP4 Plus Charger

12V/3A Adapter

Pair of Probes

3A Car Adapter

Charger Pouch

Manual

Warranty Card
AC power: 100-240V 50/60Hz 
DC power: 12VDC Automotive
Our XTAR VP4 Li-ion Charger SET incls. both AC/Wall & DC/Car Power Cords.
NOTE: Li-Ion cells can be hazardous - never leave charging cells unattended, and remove cells from charger once charging cycle has finished!