XTAR XP1 Hummingbird Li-ion/NiMH/NiCD Charger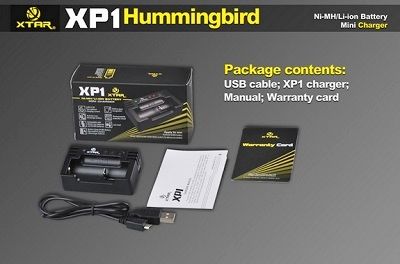 XTAR XP1 Hummingbird Li-ion/NiMH/NiCD Charger
XTAR XP1 NiCD / NiMH / Li-ion Intelligent Charger - charges at up to 500mAh/.5a
Li-ion 10440 up to 18350~18500 Size Li-ion Battery
("AA" or shorter length) (NOTE: 16650~18650 and larger batteries will NOT fit)
or
NiMH/NiCD AAA/AA Battery.
Can handle THREE different rechargeable battery chemistry types.
An AWESOME little compact travel/emergency/survival charger for smaller rechargeable batteries!
Weight: 1.2 ounce (34g)
Size: 1.57"x2.72"x0.9"  (40mmx69mmx23mm)

Professional compatible intelligent charger with two optional charging currents (0.25A,0.5A)
Features: Precision end-of-charge voltage detection.
Automatic 3.7V / 1.2V battery cell voltage and polarity detection.
Over Charging timeout protection. Auto alert indication for bad battery.
Auto activate function for Li-ion battery cell open (0 Voltage).
Power input can use any Mini USB DC5V power port/adapter for charging (500mAh minimum).


NOTE: Li-Ion cells can be hazardous - never leave charging cells unattended, and remove cells from charger once charging cycle has finished!